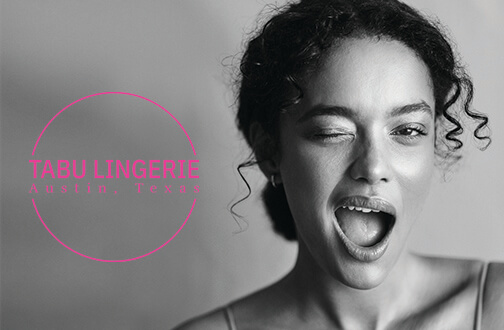 Austin is more than just the live music capital of the world – it's also one of the top small business-friendly cities in the U.S! At Tabu Lingerie, we're not just a small business, we're a cultural destination and an important part of Austin's kinky DNA.
Since 1992, we've offered curious out-of-towners and loyal Austin locals a unique mix of frisky fashion and homegrown sexual-positivity (back when sex toys were still illegal in the great state of Texas.) A twist on the word "Taboo", Tabu Lingerie was founded on the belief that sexual stigmas are made to be broken. Our goal is to provide a non-judgmental, and welcoming environment for men, women and couples to explore and embrace safe, sane, and creative consensual sex!
From carefully-curated lingerie and exclusive swimwear, to luxury adult toys and bondage gear, we've combed the world for the best brands that are made for better intimacy and sexual wellness. We specialize in a plethora of bridal/bachelorette goodies and high-end bedroom tools that are perfect for all kinds of sexy gifting.
And, our friendly and knowledgeable staff will help inform, instruct, and cater to all your shopping needs. Whether you're planning a romantic evening for just the two of you, a sexy weekend with close friends, or, you just want to treat yourself to a little self-love, our locally-owned and operated couple's boutique is a must-see shopping destination.
We are all-gender inclusive and open to a diverse community: Whoever you identify as, as long as you are over 18, you are ALWAYS welcome in our store. Come and see us for yourself!
We are located at 9070 Research Blvd, Austin, Texas 78758. We're open every day of the week: Monday-Friday 11-8pm, and Sunday 12-6pm. If you don't feel comfortable shopping in person, you can also shop 24/7 at our online sister location at Tabutoys.com.