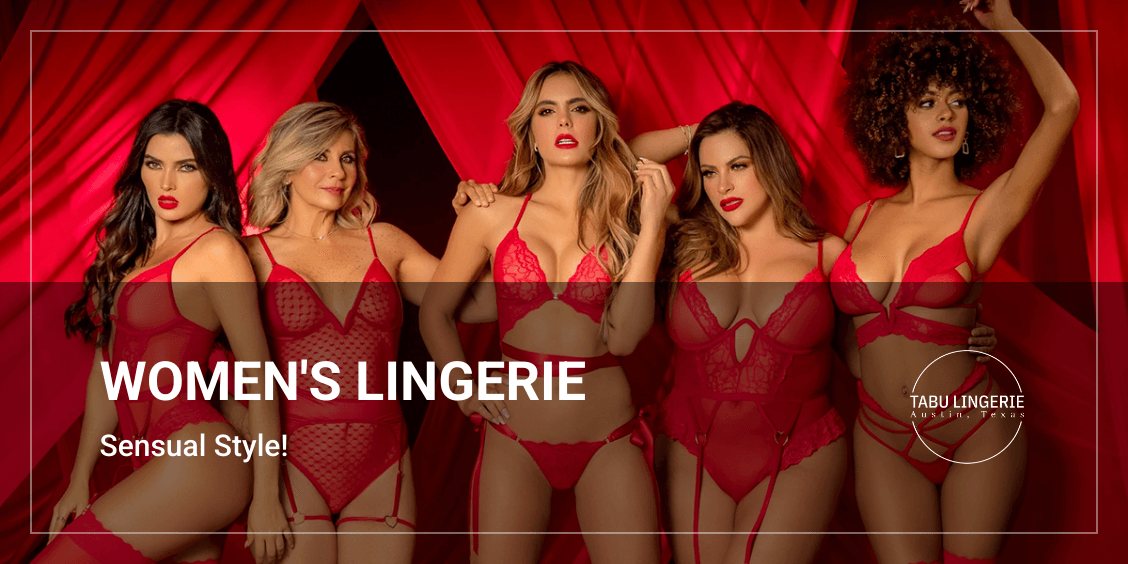 Buying lingerie as a gift for someone else is one thing, but does the thought of buying it for yourself seem a little indulgent? Selfish? EXTRA? We get it. Economic anxiety, body image hang-ups, and even your relationship status can make the thought of lingerie shopping feel a bit excessive. After all, "lingerie" is what supermodels wear to lounge around 17th-century French Chateaus. The rest of us mere mortals should be content to watch Netflix in our sub-par underwear, right? WRONG. Even though we're constantly bombarded with messages that lingerie is exclusively for those who've attained physical perfection – (Hello, Victoria's Secret) –  we're here to spread the message that Lingerie is for EVERYbody… especially yours!
Your body is beautiful, powerful, and deserving of love, even when you're not feeling your sexiest self. Besides, real sex appeal doesn't equal how many followers you have on IG, how old you are, or what size you wear – it's about how you feel about yourself and being comfortable in your skin. That's why lingerie is like a self-love letter you can wear. When you slip into beautiful, well-fitting lingerie, it has the power to make you feel confident, whether you're wearing it under your work clothes, for a lover, or for a hot date with a pizza at 1 am! There's just nothing quite like the feeling of sexy little number against your skin.
If you're just starting out your lingerie collection or simply want to upgrade your underwear game, we're here to help. We offer inclusive sizes that will flatter all body types, as well as a fantastic variety of lingerie styles that range from sweet and chaste to "in your face!" (Hey, we don't judge.) Meanwhile, here's a quick guide to lingerie terminology to help you shop like a BOSS.
Tabu Lingerie Glossary:
Babydolls: Not So Innocent! A babydoll is a sheer nightgown or negligee. Shorter than a standard chemise, traditional Babydolls feature a high waist with a floaty mid-panel that resembles the clothing of a doll (hence the name.) With their very short hemlines, Babydolls are designed to show off the legs and rear so they are typically offered with matching panties.
Bralettes: Easy Breezy! Made without underwire, this relaxed bra style works well for casual layering and those times when you just want to feel more comfortable. Bralettes come in a variety of designs, from lacy special occasion pieces to sporty "everyday" styles that are more akin to sports bras.
Bustiers: Bust Em' Out! Shorter than a corset and not quite as restrictive, Bustiers are long-line bras with built-in underwire cups to support and define the breasts. The "bustier as outerwear" trend was popularized by Madonna in the 1990's, though it's still going strong thanks to celebrities like Hailey Bieber, Irina Shayk, and Kylie Jenner.
Chemises: Give Em' The Slip! A more conservative cousin to a Babydoll, Chemises fall above the knee and generally feature thin spaghetti straps. A relaxed fit and silky fabric takes them into basic loungewear territory, though they may also be worn under a dress or skirt as a foundation garment.
Crotchless Lingerie: Nasty Knickers! Has anyone ever told you that you need to open up? Well, when it comes to crotchless panties and teddies, you're an open book. Lacking in comfort, functionality, or a cotton crotch panel, you probably won't be wearing them to work any time soon. Needless to say, these easy-access undies are exactly what you need for dirty date night!
Corsets: Curve Creators! So what's the difference between a Corset and a Bustier? Well, a bustier focuses on your "breast assets" while a corset draws in your waist to create an enhanced silhouette. Corsets create that "snatched" look by using strong back lacing and steel or plastic boning to compress the abdomen.
Cuban-Heel Stockings: Walk The Line! Once upon a time, all stockings were made with a reinforced heel and back seam that held them together. Popular since the 1940's, the Cuban Heel pattern features a back seam that connects to an elongated square to accent the back of the ankle. Very retro sexy!
Garter Belts: Suspend Fascination! Dear Shoppers, let's get this one thing straight: A "Garter" consists of a single, stretchy thigh band – the kind a Bride throws into the crowd on her wedding day – NOT to be confused with a "Garter Belt," which is worn around the waist with suspender straps that connect to thigh-high hosiery.
Peignoirs: Old-School Sexy! Back in the day, this sheer chiffon dressing gown was worn over "nightclothes" during those times when a lady expected visitors in her boudoir. Your Grandmother didn't need a thong to make it rain – this gauzy boudoir garment gave the charming illusion of modesty while ensuring Grandpa paid ALL the bills. (Hubba Hubba!)
Teddys (Teddies): One And Done! Combining a bra and panty into one form-fitting bodysuit, this lingerie staple has been popular since the 1960s. Available in a multitude of styles and a rainbow of colors, teddies are perfect for curvy girls as they support the bust, accentuate the waist, and elongate the legs.
Thongs: Your Secret Weapon! All about the derrière, these undies offer less coverage for maximum impact. Thongs also come in fun variations such as G-Strings (that use a thin string of elastic in the back), Tangas and Brazilians (that tease with just a bit more coverage), and Y-Backs (that create a booty-enhancing Y shape over the cheeks.)
Trousseau: Big Day Essentials! Known as "bundle "in French, a Trousseau is a collection of necessities a bride-to-be might need for her new life, carefully packed into a suitcase or hope chest. Typical Trousseau items might be Lingerie, Linens, Perfumes, Scented Candles, and Luxury Toiletries (though you can add a modern twist with adult toys.) We're all for bringing this beautiful tradition back!
"It's not about seducing men, it's about embracing womanhood." – Dita Von Teese