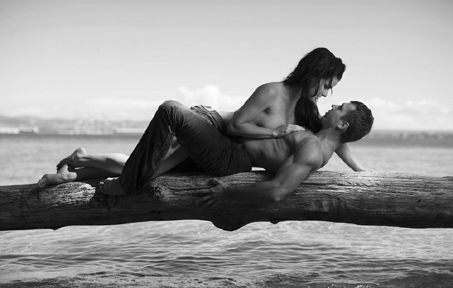 Want to take your sex life from coach to first class? Travel is a great aphrodisiac. According to a study by the U.S Travel Association, "28% of couples say their sex life improved after their trip together and 40% say travel permanently improved their sex life."
But before you pack your bags – don't overlook those other necessities that will guarantee hotter R and R: Sex toys!
Here are a few helpful tips for flying under the radar with sex toys:
Carrying On Correctly: Keep it short and sweet. According to TSA, it's perfectly legal to travel with sex toys in your carry-on baggage as long as they are 7 Inches or shorter. (Don't fret, size queens. There is no length limit on checked bags.)
Baggage Handler Phobic? Take a deep breath and remind yourself that your sex toy is not the first one TSA has ever seen. And, try keeping all your toys together in one compartment or sealed bag (instead of buried throughout your luggage) so TSA doesn't have to take your entire suitcase apart to see what's in it.
Keeping it on the down-low: There are a variety of travel-proof adult toys available that are small, discreet, and won't raise eyebrows in your carry-on luggage. Brands like Jimmyjane, LELO and VeDo offer rechargeable vibrators with travel-lock features that will prevent your toy from accidentally engaging in your purse or luggage.
Batteries: Remember – Airport security really isn't concerned with your battery-operated friends. They are, however, very interested in bombs, which can also vibrate.
That means, ALWAYS remove the batteries from your electronic devices before packing them.
Instant Atmosphere: Massage Candles create a sensual effect in musty hotel rooms and produce a lukewarm massage oil that's perfect for sensual rubdowns.
Erotic Restraints: There's no better time to get your kink on than while you're on vacation – just avoid the heavy metal handcuffs. Sportsheets makes great soft bondage gear that packs discreetly in your suitcase.
Lubricants: Don't leave home without them since all that hot hotel sex can mean holiday chafing. And if you plan on getting busy in a pool, hot tub or ocean, silicone lubricants are your best bet since they stay put under water.
The 3-1-1 Rule: Speaking of lubricants, you are allowed to bring a quart-sized bag of liquids, massage oils, gels, creams in your carry-on bag and through the checkpoint. These are limited to travel-sized containers that are 3.4 ounces/100 milliliters or less (like our favorite Pjur Original Bodyglide. )
If you're checking your lubricants, there is no limit. Just make sure to keep them stored in a watertight case or zip lock bag to avoid messy spills during transit.
Start trippin! If you're still worried about bringing along your sex toys a fool-proof (albeit more expensive) method for transporting your sex toys to your desired destination is to ship them via Federal Express or UPS.  Simply call ahead to inform your hotel that you're expecting a package and ask them to hold it for your arrival.